I hope that this post finds you well. After selling April on eBay I knew that I need to finish Bernie. Bernie has been successfully listed on eBay, even after trouble with the pictures.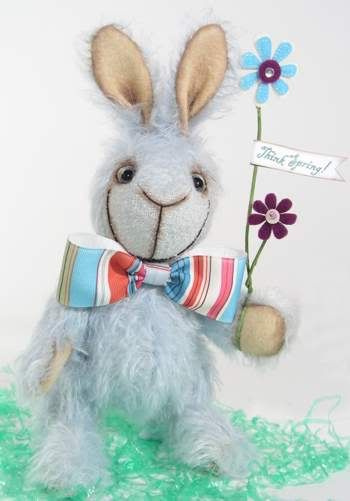 Bernie is a 7" (9" if you count his ears) orginial design slightly big head rabbit. He has been carefully created from premium Schulte mohair hand dyed a lovely shade of soft pale blue. He is fully jointed and secured by the use of lock nuts, bolts, and discs. Paw and foots pads have been created from hand dyed merino wool. Bernie is filled with excelsior, fiberfill, and pellets for a nice weight and he has no trouble standing on his own. Those adorable ears are wired so you can pose them however you like. His sew-in tag is dated and has my signature.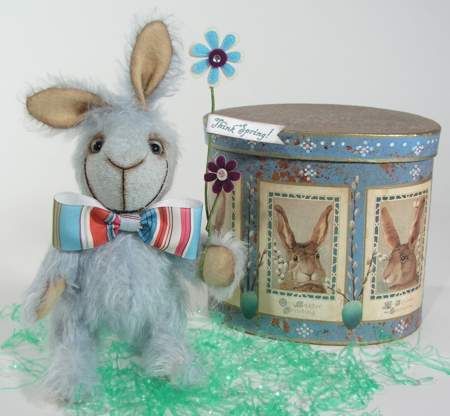 Bernie comes with an oval paper mache' box that has been hand decorated and painted, featuring a copy of early 1900's postcard art of the most beautiful bunny faces. Shaded eggs and pussy willows are hand painted between the bunnies edged in gold, making it a really special container. It measures 6 1/8" tall and 7" long. It will come filled with yellow crinkled paper shreds - Bernie loves playing in them.
Bernie loves playing in his box, too.
Click here to view his auction on eBay.
Hoppy Hare & Bear Hugs,
Jared